Linear Programming
The simplest type of mathematical programme is a
linear programme
. For your mathematical programme to be a linear programme you need the following conditions to be true:
The decision variables must be real variables;
The objective constraint must be a linear expression;
The constraints must be linear expressions.
Linear expressions are any expression of the form

where

and

are known quantities and

are variables. The general form of a linear programme is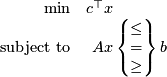 The process of solving a linear programme is called
linear programming
. Linear programming is done via the
Revised Simplex Method

(also known as the Primal Simplex Method), the
Dual Simplex Method

or an
interior point method

. Some software packages, such as
CPLEX

, allow you to specify which method you use, but we won't go into further detail here.
Integer Programming Topics
--
MichaelOSullivan
- 16 Feb 2008