ProblemFormulation
In order to formulate a simulation model we specify the following components:
Background – problem description
Objectives of the study
Expected benefits
The CM: inputs, outputs, content, assumptions, simplifications'
Experiments to run
Components 1 (Background – problem description) and 2 (Objectives of the study) are given in the Problem Description section (see paragraph describing the goal of the simulation study to identify study objectives). The Expected benefits (component 3) are a virtual environment for evaluating the doctors' roster as well as monitoring patient waiting times, total time patients spend in the clinic, and the number of patients waiting for treatment. This environment can be used to experiment with changes to the roster, including a comparison of effects on the doctors' utilisation. The CM content is specified using the following components:
Component List
Process flow diagram
Logic flow diagram
Activity cycle diagram
Component List The components of the Extended Health Clinic model are:
Walk-up patients with their (inter)arrival times
Scheduled patients with their appointment times
Triage nurses with their triage times
Test nurses with their testing times
Doctors with their roster and treatment times
Waiting room with its capacity
Process Flow Diagram Note that the process flow diagram stays the same as the only change will be which doctor is the Walk-up Doctor and which doctor is the Appointment Doctor.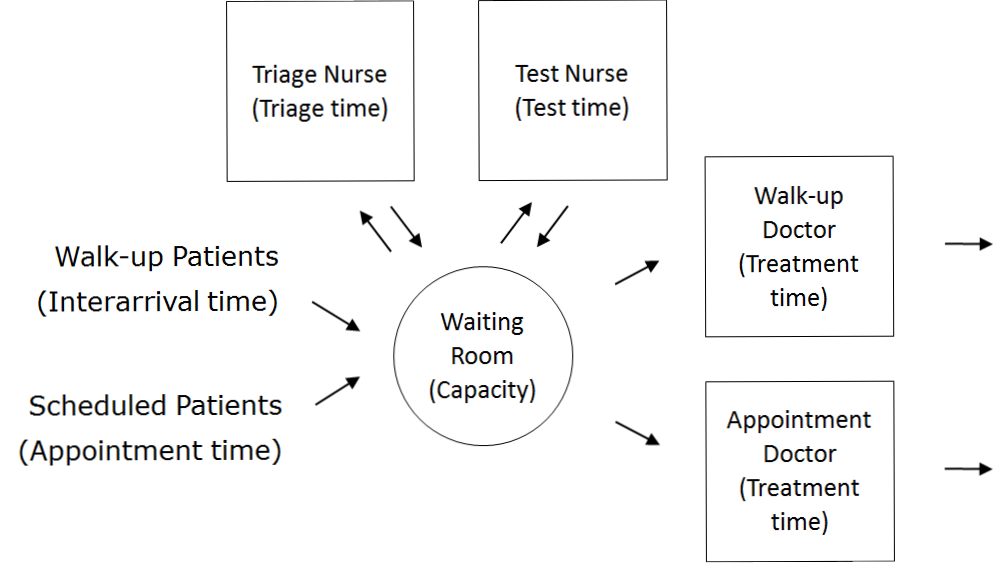 Patient Logic Flow Diagram
Doctor Logic Flow Diagram
Nurse Logic Flow Diagrams
Activity Cycle Diagram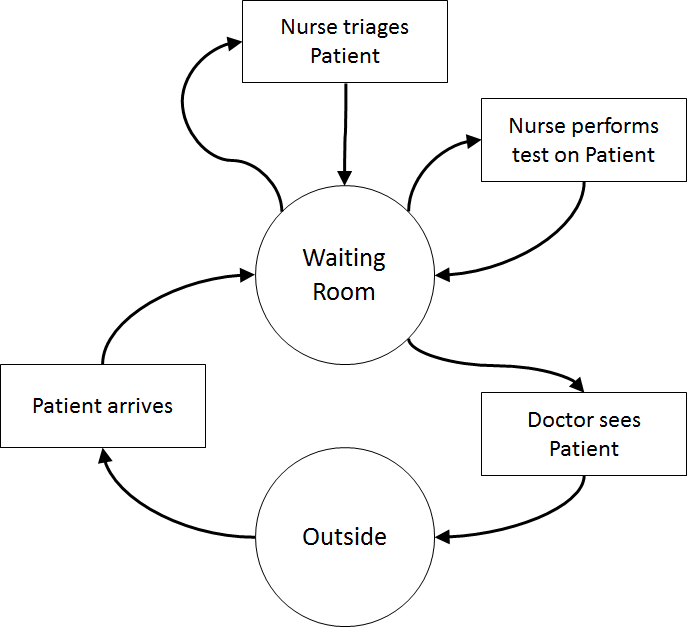 Once the content has been established (note this is usually an iterative process) we can identify the inputs:
doctor roster, appointment times, interarrival times, triage times, test times, treatment times;
and outputs:
doctor utilisation, waiting times for triage, testing, and treatment (i.e., Patient arrives to Nurse triages Patient, Nurse triages Patient to Nurse performs test on Patient, Nurse performs test on Patient to Doctor sees Patient, Nurse triages Patient to Doctor sees Patient, Patient arrives to Doctor sees Patient), total clinic time (Patient arrives to Outside), number in waiting room.
Assumptions are used to define stochasticity (e.g., Exponential interarrivals, Triangular treatment times) and the simplifications keep the system simple (e.g., nurses on all day for triage and testing, and treatment, no registration, no prioritisation).